Post by Tomoe Natsumi on Aug 13, 2018 8:24:03 GMT -6
~Knight/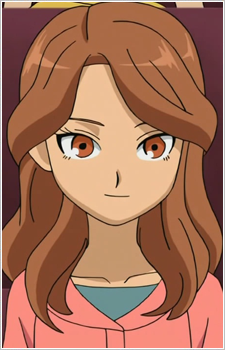 Character Name: Tomoe Natsumi
Knight/Senshi Name: Sailor Saturn / Saturn's Nurse / The Nurse
Alignment: Chaotic Good
Disposition: A bit aloof at first...maybe even cranky, but kind and brave deep down. Acts a bit arrogant, but actually she's got a love for life and for the little guy.
Quotes: "What I do...I do not out of joy...or pleasure...but in the name of sanity and peace. I am the bringer of the darkness and the end. I am Saturn's Nurse....and I'm going to save you." "Of course I'm being childish... what's the point of being royalty, if you can't be childish once in a while?" "Listen!"
<-- Civilian Information -->
Name: Tomoe Natsumi
Name meaning: Summer's Soil
Age: 18
Height: 5'5"
Weight: 95 lbs
Eye Color: violet eyes
Hair Color: light chocolate brown
Birthday: June 21st
Zodiac: Cancer
Blood type: AB
Strengths: Good at leadership, working under pressure, doesn't give up, compassionate, very hard to scare
Weaknesses: people mentioning her mother, bullies, cute girls, people who always rush to violence
Favorite Food: caesar salad and baked yams
Least Favorite Food: gyouza
Hobbies: Travelling, meeting new people, saving people, responding to distress calls.
Favorite Color: Brown
Phobia: Being alone.
<-- Personality -->
Natsumi can come off as an Ojou-sama (princess type) - but that's all just an act. She comes off as cocky but this is just one of a facade she projects. She knows all about hatred, fear and rage...even envy....and she's come out stronger, stronger than maybe others have predicted. However, she's also become much less predictable, perhaps more clownlike than anyone would have predicted. She is eccentric and a bit manic at times. Yet all of this madness merely covers the darkness she has seen - past, present and future. And she's determined to make sure no child ever has to mourn their parents' loss ever again. Basically, she tries to be the white knight who comes in, rights the wrongs, and stops the baddies. She doesn't always succeed, but she tries.
<-- Appearance -->
While little is known about her father, Natsumi must have taken after him, as she resembles her mother very little in many ways. She has long, wavy auburn hair that flows down to her posterior. She has long bangs which are parted in the middle and pulled towards the back. She is always seen in a stylish and proper clothing, and keep up the appearance of her former upper class life...with odd add ons.
Her eyes, while slightly elf-like, are the one thing she got definitely got from her Mama...they are a beautiful shade of violet and twinkle when she laughs. In fact, many have found looking into her eyes quite alluring, perhaps oddly so. Her face is also slightly pale, like her mother's. Natsumi has a modest physique... she's definitely growing into a young lady, but not in any proportions that draws attention to her - rather her lovely face does that on its own.
<-- Knight/Senshi Stuff -->
Name: Sailor Saturn
Element: Death , Destruction
Gemstone: Amethyst
Innate Abilities: Leadership
Transformation: Natsumi raises her hand and yells "Saturn Crystal Power!" and thrusts her right hand into the air while her left remains limp at her side. Her right hand sketches out the symbol of Saturn which then cause a bright light to pour down upon her.... A twinkling light covers her body and she begins to spin in one place like a ballerina and moves faster and faster. Eventually the light dims and fades....and at first..nothing can be seen....until a small light - like a fire fly appears....and then grows into the figure of Sailor Saturn. She flicks her hair out of her eyes...stares forward and states solemnly. "On behalf of the Planet of the final end... I shall bring your final rest to you... Prepare yourself now please for destruction!"
Appearance: Like her mother, this Sailor Saturn's main color tends to be purple. Her neckband, gloves, skirt, and boots are all of this colour. The other common colour, white can be seen on her bow, tiara stone and even her small planet shaped earrings. Saturn's neckband features a small white cross and her glove and neck trims look like white carnations. Located on her bow is a white stone that shimmers when she is enraged. Her boots are short and only go halfway up her calves but end with a flowery pattern at the top. She has the same type of earrings her mother did, that of the planet Saturn.
Attacks:
Silence Wall: A power she inherited from her mother, by thrusting the longest portion of her staff of the Silence Glaive towards whoever is attacking her, Saturn instantly forms a very strong wall or shield that can be very hard to overcome to hurt whomever she is protecting. This spell may be kept in place using the bladed part of her weapon.
Enma's Diamonds Tears : Her first attack spell, Saturn holds her glaive up and spins in around...creating a milky way of lights above her head. She then says. "For you so wished to bring misery and death, so be it be brought back to you...Enma's Diamond Tears...." She shrieks the last part and drops her glaive down suddenly and sends a torrent of bright lights down towards her targets which hit like a volley of tiny fire or lightening staffs. She hasn't used this for a long time.
Death Ribbon Revolution: Natsumi sweeps down at the ground using her glaive, which generates a strong burst of energy which engulfs and knocks down the opponent. Also good for finishing sweeping tasks much faster.
Knight/Senshi Weapons(optional): Silence Glaive; Magical lipstick (This item, disguised as lipstick, isn't powerful, but it can trace magical power, and it can give Natsumi minor details about the nature and origin of the magic of an item. Certain magic items - like doors - she can even disrupt the magic for a short time. It cannot disrupt the magic of weapons)
Rank - Medic
Combat Specialty : Unarmed combat, especially jui jitsu and aikido....concentrating on disarming people. She also knows how to use the Double bladed staff with lethal force, but she rarely is seen with this.
Position: Medical / first aid provider
Specialty Training: Healer
<-- Background ?
< spoken to a bunch of rebel fighters one time in the not too far past >
You call this a war? This....this scale model replica? Oh you haven't got a battle here..what you've got is a sandbox squabble. I've seen worse..far worse...worse enough you'd pee yourself in that perfect uniform.
Let me tell you a story. Now that you're all looking at me...let me tell you a story. About a girl, a young girl..with a happy childhood...and a warm and loving mother. But her mother, she was the Queen of Saturn....but that meant nothing to the child, because the Princess was always Mother to her. she was kind and caring and compassionate.... While she never looked, acted or sounded like her mom, they were extremely close, and the mother doted on her child while the child worshipped her mother.
Then the dreams began. Charon, Death...whoever they were...began to visit her dreams, in many forms ..speaking to her whispering to her....telling her of her fate and duty to come. She at first tried to ignore them,, but as they got more frequent, she confided in her mother, who tried to console her and told her that she would keep her safe. It was a promise sadly she would not be able keep. Death had come to warn them..but the warning came too late.
You know what came...who came. And you know the swath of destruction it brought with it. When her mother - along with the rest of the Queens and the Moon Queen herself died, Natsumi's life crashed around her. Sure...to many she seemed to keep holding on...but her heart was broken. She didn't want to be Sailor Saturn. She didn't want to carry on the fight. It was all of this that took her mother from her....but she also knew..she had no choice.
Then the man came and dragged her and the others away. This child....this little girl...didn't know how to react. Death continued to visit her..to guide her. But this man...this warrior ...he was Death too..all in his own way, but he was also life. He took the kids ...all the remnants of the fallen monarchs..and he took them where the darkness could not reach them - yet. And he hid them....and worked to make them into what they needed to be. I mark here...not what they wanted to be...not what they should have been...But what had to be....
This child...this child of Saturn...she fought against the training ...fought against becoming a fighter. She wanted none of it. But this man browbeat this girl....he pushed her...punished her... pulling her to the bring of sanity, until she became hateful, angry and vengeful. She became more and more angry, and her powers began to grow. She soon became angrier and more prone to violence... her anger at everything that had happened to her...pulling at her soul. Til one day...one day it happened.
She encountered what to be some forces looking for her and her friends. Without remorse and any type of mercy, she annihilated them completely, wiping them out all at once. In fact, it was a group of lost families looking for shelter.
Something like this...breaks a person...and either destroys or reforms them. It either destroys them whole or refines the diamond. But can you imagine? A child? Losing her family? her world? her people? She watched them all die... She watched her mother die...she heard her mother's screams...still does in her sleep. She's seen their deaths a million times in her dreams...and dreams of her current family's deaths in her dreams as well....And she was dragged...dragged into darkness...to be turned into an instrument of death, because it was the only way for her to keep alive. And then...then she became what she hated...a murderer...a judge, jury and executioner. It was time to end that.
This is not a war. My mother fought in a bigger war than you will ever know. She and I both did worse things than you could ever imagine, and when I close my eyes... I hear more screams than anyone could ever be able to count! Screams of deaths that have long snuffed out life and deaths that have yet to be.... And do you know what you do with all that pain? Shall I tell you where you put it? You hold it tight... Til it burns your hand. And you say this -- no one else will ever have to live like this. No one else will ever have to feel this pain. Not on my watch.
I am Saturn's daughter...I am the Nurse of Saturn...I fight for every homeless child..and downtrodden person. I come to stand between everyone and anyone who feels that might justifies cruelty.
Crystal Millenia Shall Fall....NO MORE!